To import an existing HM2 database to your current HM3 database, or to a new HM3 Database, you need to first make sure the database you want to import to is active. If you want to import to a new database use the File >
New Database ... (Ctrl+N)
menu. To import to an existing database set the database as active via the
File > Open Database... (Ctrl+O)
menu.
Next you need to open the File > Import
HM2 Database...
menu.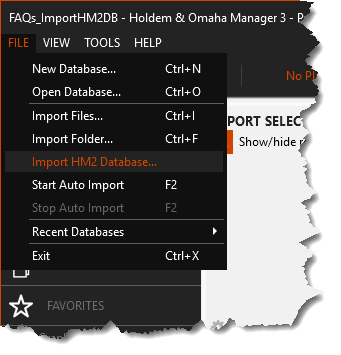 This will open the following
Import HM2 Database
window.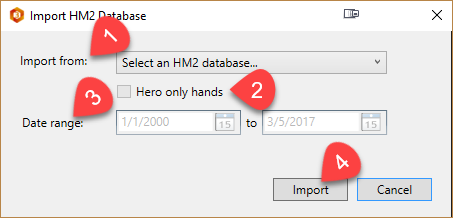 Use the Import from: drop-down menu to choose the HM2 database you want to import.
Select the [x] Hero only hands option if you only want to import hand history files that contain known/hero hole cards.
You can use the Date range: filters if you only want to import a date specific sub-set of hands from the HM2 database to HM3.
Select the Import button to import the database, or the Cancel button if you no longer want to import the HM2 database hands to HM3.
After selecting
Import
from step 4 above HM3 will export the hands from the HM2 database to a Temp folder so that HM3 can then import the hands. The bottom status bar of HM3 will show the progress as it imports hands then runs tournament detection if the database contained tournaments.


Once all database import processes are complete you can review your reports or use the database for live play with the HUD.
*If you have any problems importing a HM2 database to HM3:
Please try to create a new database: File > New Database then manually import some hands File > Import Folder > from C:\HM2Archive and/or C:\HM3Archive
If the new database works: Can you please backup your HM2 database/settings as explained
here
then upload the backup file to
filedropper.com
and send us the download link in
a support ticket
so we can test your database import issues.